Family Genealogy of Pat and Jim Geary
About Us!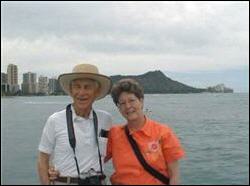 We live in the beautiful Shenandoah Valley of Virginia. Between us we have seven children - five daughters and two sons - and twelve grandchildren and two step-grandchildren. Jim now has four great-grandchildren. We've been married for twenty-five plus years, enjoy spending time with our families and traveling. We are the proud parents of Katie, a golden retriever/husky mix who keeps us on our toes.
One of our chief hobbies (or addictions) over these past years has been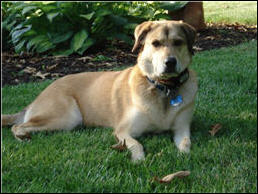 genealogical research. We started in 1987 when we bought our first computer. We've spent countless hours in courthouses, libraries and cemeteries searching out our elusive relatives. After working many years on our family lines, we thought we'd like to share what we've found with family members and other researchers. We hope you enjoy our genealogy site. Much of our work is now done on the Internet.
Our favorite pastimes have been camping, picnicking and hiking in Shenandoah National Park which is close to our home. For many years we enjoyed traveling in our 21 foot Sunline travel trailer, especially out West. We took it all over the country and lived in it for months at a time. The summer of 2000 we traveled for just about eight weeks to Montana, up into Canada, across to Washington State, down into the Carmel/Santa Cruz/Monterrey area and back home. We stayed in touch via e-mail. If you'd like to read a little about our trip and see some of the beautiful country we traveled through, check out some of our journal entries. In June 2001, we traveled to Alaska but not in our camper. In July 2002, we sold our "home away from home" and are now back to motel/car travel. Our last long trip (Fall 2002) was for 7 1/2 weeks to the desert southwest where we celebrated our 20th wedding anniversary.
Jim loves writing, photography, reading and working around the house. Pat is an avid computer user, reader and cross-stitcher. The walls of our home are covered with the results of our hobbies - photographs of places we've been and cross stitch pictures. We're both active in our local Unitarian Universalist Fellowship. Pat maintains the Fellowship Web Site and does the weekly order of service service Jim serves on both the Finance and Communications Committees. Pat also maintains a web site for her local DAR Chapter and has taken on the redesign and maintenance of a website for the House of Oak & Sofas.
Our Travel Adventures