Davis Family History and Genealogy
By James Jewel Geary
From Ancestors and Descendants of William Hank Jewel
Let us digress a bit from the ancestors and descendants of Hank Jewel and look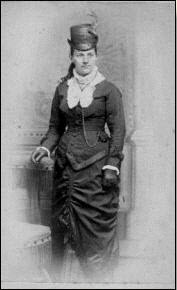 at the family of Sarah Jane Davis, his first wife, and the strange story of her father. Hank met Sarah Jane in 1870 in Tennessee, where he was attending East Tennessee Wesleyan University at Athens in McMinn County. Hank's friend and cousin, Jay Rumburg, was also a student there. Jay married Sarah Jane's sister, Mary, who became the mother of Martha "Buddy" Rumburg, who figures later in this narrative.
Sally's and Mary's parents were Wilson Davis and Elizabeth Aiken (or Eiken). Nothing is known of their forebears. But Iva Geary had a theory about the Davis's. She wrote:
"Wilson Davis's family is unquestionably descended from James Davis, wife Mary, sons Henry, William, and Samuel, who came to Virginia in 1746 'at their own expense' from Ireland. They had a grant later of 1300 acres of land on the South Fork of the Holston River and it was called 'Davis' Fancy.' James II went to Knox County TN. So did Samuel. Both of them had sons named Wilson. All of them kept naming their sons Wilson. I think it must have been Mary's maiden name." NOTE: There has been no confirmation for this statement.
Wilson Davis is something of a mystery figure. The 1860 U.S. Agricultural Census indicates he was a farmer of average means for the area. He fathered a family of eight children and then, probably about 1868, he disappeared. The family lived in attractive and fertile Sweetwater Valley in Monroe County in Southeastern Tennessee, adjacent to McMinn County and also to the North Carolina border. We find them in the 1850 and 1860 censuses. Concerning the regular 1860 United States census, Iva has written as follows:
"It was an odd set-up. The three oldest children, Austin, Henry, and Sarah J. (Mamma) were at home with their parents, and then in the home of C. R. Talent, wife Amanda, were Andrew J. Davis, Mary (Buddy's mother) six, I believe, Martha 1, and William 3. In that household there was Jane Eakin 67. I think Amanda must have been Grandma Davis's sister and Jane Eakin her mother, and I believe the younger children were probably there because my grandmother had another baby at that time. There was a daughter Julia who died as a child."
In 1867 Wilson purchased 200 acres of land in Monroe County for $1350. The following year he sold it for $680, about half the amount he paid for it. Possibly he had never paid the second $680. It must have been about that time he disappeared. His family subsequently trekked to Texas.
One of his granddaughters, Bess Brown Kennedy, daughter of Mattie Davis Brown and Josiah S. Brown, in recording some of her recollections, wrote as follows:
"Grandma Davis and her three boys and four girls come from Tennessee to Texas. Mama, Mattie Ann, was about 6 years old. They come to Grayson County, Texas. One girl Julia died at the age of 16. . . The two older girls married and moved to Virginia. [Sarah Jane and Hank were married in Tennessee.] Mama and papa were married and moved to Montague, Texas . . . Grandma Davis and Uncle Bill Davis bought land joining us on the north, after Papa bought the home place. Grandma Emma Davis and her boys Bill, Austin and Andrew, drove the horses and cows from Tennessee to Grayson County. Uncle Henry had married and moved to Atlanta, Georgia. Grandma Davis husband went on horseback, and took corn to be ground. They found his horse with the corn tied on behind the saddle, but he had disappeared. No one ever knew what had become of him. Grandma drove the horses to the wagon. Mama said they were six or eight weeks coming to Texas."
In June 1955 Iva received a letter from Bert Davis, son of Andrew Davis and grandson of Wilson, in which he enclosed a letter written to him a few days before by Julia Brown Mabry, another daughter of Mattie Davis Brown, in which she speaks of Wilson Davis as follows:
"In regard to Grandpa Davis — mother said that he died December 1890, near Dennison, Texas. Wilson Davis. He lived nearly a year after Grandma died Feb 1889. When I was at your house going to school, Grandpa Davis came one day and he and your mother talked quite awhile. Uncle Andy was gone. They talked on the porch, when he started off Aunt Maggie said 'That is your Grandpa Davis' and I ran to the door , watched him go away. He was neatly dressed, straight, and favored Uncle Henry the most, I thought.
"I think my Mother always wanted to see him. She said to me several times 'always fight whiskey, whisky ruined our home,' and I am still fighting it."
We know no more of the forbears of Elizabeth Aiken (Eaken) than we do of the Davis background. Both families could have come from either Virginia or North Carolina. By the 1850's there were many Davises in Tennessee.
Elizabeth lived out the rest of her life in Texas, where she died 3 March 1894 and was buried in Hopewell Cemetery, Clay County, TX. The Davis children, besides Sarah Jane and Mary, were Austin, Henry, Andrew, William, Martha Ann, and Julia. Sarah Jane may have remained in Monroe County, possibly living with a relative, until her marriage in 1872. Mary must have gone to Texas with the family, because Jay Rumburg married her in Texas in 1873.
What do we know of Sarah Jane? Not much, except that her husband adored her. She was considered pretty, and was no doubt in this respect a big contrast to Hank's plain sisters. He and his sisters all called her "Sallie." She died of tuberculosis at age 37 when Iva was only five; Viva, the oldest child, was 10; Louin was eight; Riner was four; and Leslie was a baby of one.
Wilson Davis and Elizabeth Aiken had the following children: