Family Genealogy - Geary or Gary Family Genealogy
Peter Gary's Revolutionary War Pension File
Abstracted as best as I could read the handwriting -
Know by all men by these presents that I Peter Gary a soldier of the 4th Pennsylvania Regiment in the late American War in the Artillery, Joseph Ashton, Capt., Col. Porter and General Lincoln. Commissioned the same, I a soldier enlisted during the American War and duly obtained a discharge from that service and now a resident of Somerset County in the State of Pennsylvania.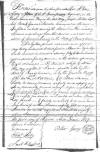 Do by these presents nominate and appoint my trusty and well beloved friend Alexander Ogle..... to ask, demand and receive all my pay and enlistments yet in arrears for my service, as the soldier aforesaid and yet moreover: - to demand, ask for & obtain all my rights to Land granted either by the State of Pennsylvania, or by the Generals ??? of the United States at that time, ?? to obtain all my Titles to ??? promises as fully and apply as if I was personally present myself - to give, acquire and have & receipts for the same & in my name as full discharges & receipts for same as I could do where I personally present . & finally and lastly to do and execute my business in these permissions as fully and as amply as I could do in all respects as I could do myself where I present. Given under my hand & seal the first day of August Auns Domini 1807
Signed & delivered
in the presence of
Saml Selby
Jacob Sheneider
Peter Gary
For the purpose of obtaining the benefit of "an act for the relief of certain surviving officers and soldiers of the Army of the Revolution" approved on the 15th day of May 1828. I Peter Geary of Turkeyfoot township in the county of Somerset in the state of Pennsylvania do hereby declare that I enlisted in the Continental line of the Army of the Rev

olution, for and during the war and continued in its service until its termination; at which period I was a musician of the band under the direction of William Moore, master of music, in the 4th Regiment of Artillery, Pennsylvania line - under the command of Colonel Porter - and was honored with a Sergeant's discharge by General Lincoln - - - And I also declare that I afterwards received a certificate for the reward of eighty dollars, to which I was entitled to under a resolve of Congress passed the 15th of May 1778 --- And I further declare that I was not on the 15th day of March, 1828 on the Pension List of the United States.
Peter Gary
Peter Gary's pension record is also available in pdf format.