Family Genealogy - Curtis Family Genealogy
Can you identify this photo as to exactly which Noah Curtis this might be.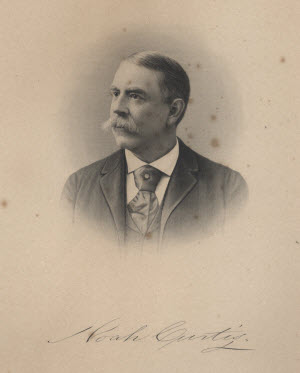 click on thumbnail for larger image.
All of the narrative on this family comes from The Ancestors of Lt. Amos Towne 1737-1793 of Arundel (Kennebunkport) Maine; By Walter Goodwin Davis; Printed Portland Maine, 1927.
Many of the births, marriages and deaths for the Curtis Family are recorded in Vital Records of Topsfield Massachusetts to the end of the year 1849. Published by the Topsfield Historical Society, 1903. I have a copy of the pertinent pages (31-32,135,215). If you are interested, please contact Pat. Vital Records of Topsfield Massachusetts to the end of the year 1849 is available for download in various formats.
Other books listed in the Family History Library Catalog which I have NOT seen are:
A genealogical history of some of the descendants of Zaccheus Curtis of Salem, Mass., who arrived in Boston, April 5, 1635 on the ship James from Downtown Wiltonshire, England Simons, Emma Sophronia Curtis, 1851-1933.
The Descendants of Zacheus Curtis of Topsfield, Massachusetts; By Harold E. Curtis; Zacheus Curtis (1619?-1682) of Downton, Wilshire, England, emigrated in 1635 and lived in Salem, Reading, Gloucester, Boxford, and Topsfield, Massachusetts. His widow, Joanna, remarried to a man named Cooper. The history of their descendants extends to the eighth generation. While settling primarily in New England, other family members settled in the western states.
---
Zacheus Curtis embarked on the "James" at Southampton, England, on April 5 1635. The Customs House record gives his occupation as laborer and his residence as Downton. A later estimate of his age indicates he was born about 1619. A large number of his fellow passengers were from Wiltshire so it is assumed his home was in the Wiltshire parish of Downton which is a few miles southeast of Salisbury. However, parish records fail to identify him.
Curtis probably settled in Salem. However, there is no record of him until 1643 when the Salem constable presented him and ten others for pasturing cattle in the north corn fields. The following year he was fined twenty shillings "for rash and ill-advised coming in to have sworn falcelie." He was presented for smoking tobacco in the street in 1647, but the charge was not proved. About this time he married Joanna ________, who appears as a witness in a defamation suit in 1650.
Sometime before 1658, Zacheus Curtis and his family settled in Reading on land rented from John Gould. They then went to Gloucester where Curtis was involved in a suit over a job managing a farm for William Bartholomew. The birth of their daughter, Mary is recorded in Gloucester in 1659. Soon afterward, they are found at Rowley Village (Boxford), which was then closely identified with Topsfield, and where in 1663 Zacheus Gould, the father of his former landlord at Reading, deeded to Zacheus Curtis, a parcel of land lying on the south side of Fishbrook. He also gave Curtis liberty to pasture cattle on Gould's common land and a right of way to Topsfield. By 1664/5, Curtis called himself a planter.
Zacheus Curtis died in 1682. His verbal will was testified to by John Ramsdel and Abigail Curtis, who stated they were present when Curtis lay on his deathbed, and that he declared that his will was that all of his grandsons should have twenty shillings each and his granddaughters ten shillings each, and that his son Ephraim should have the farm after his mother's death. The statement was sworn to on November 29, 1682, and John Curtis, Ephraim Curtis and Jonathan Looke, husband of Mary Curtis, assented to it. The inventory of his estate amounted to £185:16:8. The estate was much reduced by debts which totaled £134:6:8. Ephraim Curtis was appointed to administer his father's property.
Zacheus Curtis of Topsfield is listed as having served in King Phillips War.
Zacheus Curtis is listed as being a member of The Old Church, Topsfield. NOTE: Link is to Google Books.
Zacheus Curtis and his wife, Joanna had the following children:
Zacheus born about 1646, married Mary Blake.
John born about 1649, married Mary Looke.
Zachariah born about 1651.
Sarah born about 1654, married James Scales.
Mary born May 12 1659 in Gloucester, married John Heard.
Ephraim married Elizabeth Kelbourne.
Abigail who testified to her father's verbal will in 1682; presented for fornication at the Quarterly Court in September 1689.
Sergeant John Curtis was born about 1649. In 1673, he testified that he was twenty-four. He married Mary Looke, daughter of Thomas and Mary Looke of Boxford, December 4, 1672.The lived in Topsfield and Curtis occupied a prominent place in local affairs throughout his life. He constantly occupied minor offices in the town. He became corporal of the local militia in 1690, and sergeant about 1711. Mary joined the Topsfield church in 1685 and John in 1714.
John Curtis made his will on March 19, 1717/18, and it was admitted to probate on April 16 1718. He left his estate to his wife, Mary, sons Samuel, John, Thomas and Ephraim, daughters Sarah Smith, Elizabeth Gould, Hannah Gould, Rebecca Smith, Phebe Towne, Abigail Towne, Mary Kenney and Hepsibah Curtis. Samuel was named as his father's executor.
John's widow, Mary Curtis survived until August 12 1745, when she died in Topsfield "in her 98th year".
John and Mary had the following children:
John born Oct 11 1673, married Priscilla Gould.
Sarah born March 17 1675/6, married Samuel Smith.
Mary born December 27 1677, married Henry Kenney.
Elizabeth born December 15, 1679, married Zacheus Gould.
Thomas born December 2, 1681.
Abigail christened October 21, 1683, married Joseph Town.
Hannah born January 12, 1685/6.
Rebecca born January 20, 1687/8, married Samuel Smith
Phebe born March 2, 1689/90, married Nathan Town.
Ephraim baptized August 28, 1692.
Hepsibah born Nov 28 1694, married Daniel Felch.
Samuel born May 31 1698, married Hannah Dodge.
Samuel Curtis was born in Topsfield May 31 1698. He married Hannah Dodge of Beverly June 15, 1720. They lived in Topsfield until 1748 when the moved to the town of Oxford, Worcester County, Massachusetts. Hannah Curtis was dismissed from the Topsfield Church to that of Oxford on March 12 1748.
Samuel Curtis bought a tract of two hundred acres of land in Oxford and from 1749 to 1751 kept an inn there. In 1750 he deeded fifty acres to his son Samuel, and in 1752 he gave the remaining 150 acres to his son Noah, reserving one-half of his house. The Curtis family is supposed to have left the town of Oxford about the time of the Revolution.
Samuel and Hannah had the following children:
Hannah born July 14 1722.
Rebecca born March 9, 1723/4.
Mary born June 8 1726.
Samuel born Feb 26, 1727/8.
Noah born May 28, 1731, married Elizabeth Aldrich.
Rachel born March 18, 1732/3.
Eunice born January 15, 1736.
Elijah born July 7 1737.
John born April 15, 1741.
Rebecca born March 7, 1742/3.
Noah Curtis was born May 28 1731. In 1753 he deeded back to his father the land in Oxford given him the year before. He also released all claims on his fathers estate.
NOTE: This ends the information found in The Ancestry of Amos Towne.
Noah married Elizabeth Aldrich 11 April 1750 in Uxbridge, Worcester County, Massachusetts. Their marriage is recorded in the vital records of Uxbridge. Noah is listed as being from Oxford Gore. The births of six of their seven children are recorded in the town records. It is not known where Noah and Elizabeth died or are buried. Somewhere between 1765 and 1768, Noah and his family moved to Richmond, Cheshire County, New Hampshire. The death of their last child Thadeus was recorded there on 27 Nov 1788. His age at death was 20y1m24d. This was used to calculate his birth date.
Noah and Elizabeth had the following children:
Samuel born 8 July 1751, married Olive Cook. Samuel was a first settler of the town of Richmond in 1766 on Lot 22, Range 6. He kept a public house and was frequently on the board of selectman.
Noah born 20 Sept 1753, married Elizabeth Tillson. Noah was also a first settler of Richmond on Lot 23, Range 6.
Amariah born 11 April 1756, married Patience Cook. The town records of Swanzey New Hampshire includes a list of persons as settled in the town between 1777 and 1793. Amariah Curtis is included in this list.
Molley born 1 May 1760.
Calvin born 10 Mar 1762. The town records of Swanzey New Hampshire includes a list of persons as settled in the town between 1777 and 1793. Calvin Curtis. is on the list.
Luther born 2 September 1765. Luther is also included as having settled in the town between 1777 and 1793.
Thadeus born 3 September 1768 in Richmond, Cheshire County, New Hampshire.
---
RootsWeb WorldConnect Databases on this family that include documentation.
---
Jean H. Cornwall recently sent me some photos and a biography of Emma Sophronia Curtis Simmons who as far as I can tell follows this line of descent - Zacheus Curtis > Zacheus Curtis > James CURTIS > James CURTIS > Moses CURTIS > Nahum CURTIS > George CURTIS > Emma Sophronia Curtis Simmons
The document is in pdf format and is 328kb in size.