Yosemite National Park, California
Monday, September 9th 2002 - Yosemite National Park
NOTE: Click on any thumbnail for a larger view.
If only we had had a photographer here to take our picture. What a laugh you folks would have had. But let me digress a little. We bid farewell to Moab and the Red Rock Country of Arches and Canyonlands on Thursday before 7am and headed west on I-70 and US 50. We drove through some of the wildest most desolate country we have seen - truly desert! The endless flat desert had a dirty grayish brown appearance and in the distance were hazy, barely visible mountains. As we approached the town of Baker and Great Basin National Park, we knew it would not be a two night stay as planned.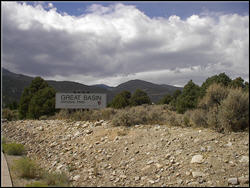 We spent a couple of hours in the park, most of it taking the Wheeler Peak Scenic Drive, a windy mountain road that rose to an elevation of 10,000 plus feet. We had hoped to take the hike up to the bristlecone pine forest to see these oldest living trees but it was not to be. With an elevation of 10,000+, a cold blowing wind and a 3 mile round trip hike with another 600 foot elevation change, we decided to walk a short ways and then head on to Ely NV. We would spend the night and try and get a reservation for an extra night at Yosemite. We checked in to the Hotel Nevada and Gambling Hall for an interesting evening. The hotel was built in 1929 as a project for a local cement company. The rooms (at least those on the 6th floor) are decorated in cowboy motifs. The first floor contains the gambling casino and the dining rooms. We lost 20 cents on the slot machines, had a good dinner and headed for bed.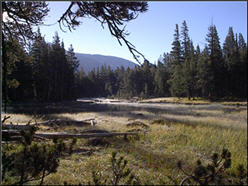 Before going down to dinner, I called Yosemite to see if we could get a reservation for Saturday night in addition to the three nights we already had. The only thing available was a canvas sided tent cabin. The woman described it as a wooden floored structure with canvas sides and top, steel framed beds with an innerspring mattress and all linens provided. No plumbing but it did have a propane heater. I checked with Jim and we remembered his daughter's, Anne and Ellen, and their description of their stay in those same cabins. But we decided we could survive one night and after all, they did have a propane heater. We spent the next night in Lee Vining which is at the eastern entrance to Yosemite. It was COLD.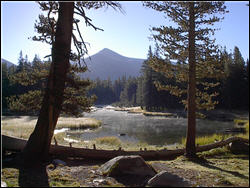 The next morning we headed across Tioga Pass (9000+ ft). We stopped at the many overlooks and again gave Mr. Kodak lots of business. The temperature at the summit was 27 degrees - pretty chilly.
We arrived at Curry Village but could not check in until later that afternoon so wandered around. We were warned that all food items and anything that had an odor (deodorant, toothpaste, lip balm etc) would need to be stored in the bear lockers overnight. It could NOT be in our tent cabin because of the danger of bears. Heavy fines could be imposed and your vehicle impounded. So we unloaded the car and moved everything "smelly" to the bear proof locker. We finally checked in and went to our accommodation for the night.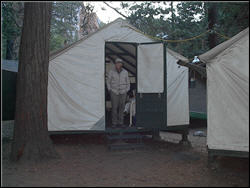 Basic is the word - a wood floor, canvas sides, four beds, a dresser and a HEATER. It was beginning to get chilly. We fiddled around and looked at the heater and tried to figure out how to turn it on. I had a bad feeling when I saw the face plate for the thermostat was sitting on top with no innards. Finally I went to find someone to ask. Uh oh!! I was informed the heat is not turned on until the first Sunday in October and here it was only September. The nice young man told me to ask the office for more blankets. He suggested we strip the bed and remake it with a blanket on the mattress, then the sheet and more blankets for covers. We stripped the three single beds of blankets; put the double blanket on first, then the sheet, then another sheet and the three blankets. That should help.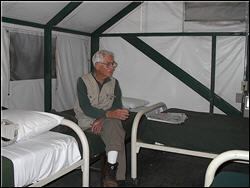 We went off to dinner and spent the evening with lots of others lingering in the lounge area where Jim and I shared an extra large chair. We couldn't delay any longer and headed back to our "cabin." Now the fun began! It was already pretty cold and as most of you know, Jim doesn't much meat on his bones. We left our heavy hiking socks on, he put on his long johns, then his pj bottoms, tee shirt, long shirt and pj top. Both of us had light cotton nightclothes! I had already put my stocking cap on so Jim took the suggestion and put his on. I added a shirt, bathrobe, heavy hiking socks and crawled into bed. OK Mr.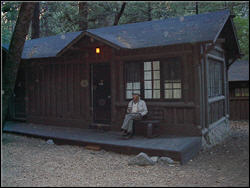 Photographer, where are you. I was pretty snug and warm but I have more meat on my bones than Jim! We snuggled close and eventually went to sleep. Now you must remember that there is NO plumbing - no sink, no tub and most of all no Pottie!!!!! This means getting up, putting on shoes or slippers and coat on top of all the clothes we already had on. What fun. Needless to say, we survived the night, are now installed in a hard sided cabin with bed, blankets, a bathroom and an electric heater. Heaven!!!!
It's now 9:05, we've spent all day in the fresh air and sunshine enjoying this magnificent park. We've had dinner, Jim is asleep and I am not far behind. Click on any thumbnail to view the larger image.
It is by far the grandest of all the special temples of Nature I was ever permitted to enter.
Full of God's thoughts, a place of peace and safety amid the most exalted grandeur and eager enthusiastic action, a new song, a place of beginnings abounding in first lessons on life, mountain building, eternal, invincible, unbreakable order; with sermons in stones, storms, trees, flowers, and animals brimful with humanity.
~ John Muir ~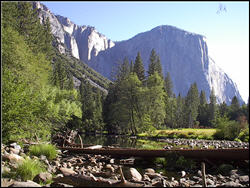 El Capitan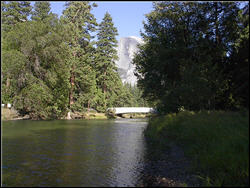 View of Half Dome from Sentinel Bridge