Sequoia and Kings Canyon National Park
September 19, 2002-- Cedar Grove, King's Canyon NP, CA
It was only 8:30 but we were exhausted and couldn't keep our eyes open another minute. It was an accumulated tiredness of the drive over curving narrow mountain roads and too many late nights visiting with family. We gave up - lights out!
We had left bright sunny Carmel and headed in to the hot Salinas and San Joaquin valleys. The golden hillsides dotted with trees and many fields growing something - avocados, corn or whatever. How nice it would be if signs let us know what was growing. The miles of orchards, plums, peaches, nuts and grape vineyards. We bought fresh fruit and dried fruit to nibble as we traveled.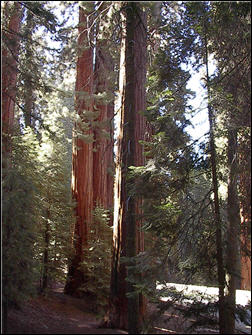 By mid day we had reached California 180 and began climbing towards King's Canyon National Park and Grant Grove Village. We watched the temperature drop as we headed up to 6600 feet. We stopped at the visitors center and decided to take the walk to see the General Grant tree while we were already there. The giant sequoias are so huge you can't even get them in the viewfinder of the camera. They are so big, old and beautiful and it is hard to imagine someone wanting to cut them down. You see pictures of these trees but they simply cannot do them justice. Come see for yourselves!!
We then headed back down Hwy 180 which zigzags down in to Kings Canyon through Sequoia National Forest. It is a narrow road with sheer drop offs and enormous rocks that jut out. We were glad we did not have the trailer with us. You eventually reach the Kings River, a swift moving rocky COLD river that warns of its dangers. The views were fantastic but it was a little hairy for 30 miles. As we approached Cedar Grove, we passed another bear warning sign. "Active bear area," it said. My comment "if it's such an active area, why isn't the bears up on the road where I can see them?" No sooner were the words out of my mouth then running hell bent down one side of the hillside, across the highway and up the other side was a chocolate colored black bear. He turned and looked at us and disappeared in to the woods. I was driving, stopped, frantically tried to take a picture and of course the camera wouldn't work right. I did get a picture but the bear might not be in it.
Later Sept 22nd - We would see another bear on our hike of the Congress Trail (2 miles) in Sequoia. This one was much smaller, and right beside the trail. We took pictures and left him to his business of foraging for something to eat. He could have cared less about us. Sequoia - so many of those beautiful trees in one spot. You can hardly look high enough to see the tops without your neck hurting. You sit on a bench and marvel at these enormous living things.
We are in the gaudy city of Las Vegas tonight and head for Zion in the morning. My writing is falling behind but we are certainly having a great 20th anniversary celebration.