Jewell or Jewel Family Genealogy - Family Sketches
William and Mary Jewel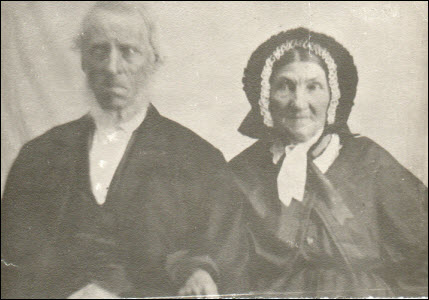 Thomas Jewell's son William was born at the very beginning of the 19th century, 25 Jan. 1800. It would be rewarding to know more of his long life during that very eventful century. He died at his son Hank's home in Christiansburg, Virginia 11 Jan. 1886. His wife, Mary Hall, was born 3 Aug 1805, and she and William were married 24 Feb. 1825. She died at Hank's home 24 Feb. 1890. Though they were both born nearly two centuries ago, Iva Geary remembered them. She was almost ten when her grandmother died, and remembered her talking of the Civil War and other early days.
"Grandma had seen bears and a panther in the woods," she related. "The panther was more exciting than the bears. It was lying along the limb of a tree when Grandma, a child, had seen it. She could hear from her own home the panthers scream up in Poor Mountain."
Iva relayed an amusing story about the courtship of William and Mary. One day Asa asked daughter Mary when she and William were going to marry. "I'm not going to marry Bill Jewel," she said. "He's too ugly." In that case, her father said, he didn't want to see her going with him any more. Sometime later at a gathering after church at the Hall residence, Asa spotted the two of them sitting on a bed holding hands. "Bill," he said, "do you have your marriage license with you?" William said he did. A minister happened to be among those present, and Asa had them married on the spot. A large number of us owe our existence to that union.
All we know of William's personality is from Iva; she wrote: "I can clearly remember my grandfather, as he died at my father's house. He was a grand man, a farmer, merchant, teacher, preacher, and surveyor. He was intelligent and highly respected. Aunt Lucy said, ' John Wells was said to be the wealthiest man in Floyd county and father was said to be the best scholar.'" There is extant a photo of William and Mary taken by Hank when they were quite old.
William and Mary had ten children including the first born, John, who apparently lived only a few hours. What a disappointment this must have been for the young couple. But eight girls were to follow, and then, finally, the cherished baby brother, William Hank.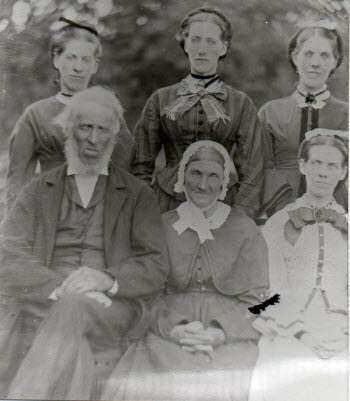 Around 1832, William and Mary, now with two small daughters, decided to emigrate to Ohio, joining the restless movement west. Little is known of this tragic adventure. Apparently disillusioned, they started back to Virginia. On the way the eldest daughter, Martha, five years old, became ill and died. Also on the trip back they accidentally left the second daughter, Elizabeth, then about two, on the shore when they crossed the Ohio River on a ferry. William had to go back in a rowboat to get her. The child was quoted as saying she saw what looked like a duck coming across the river, then she recognized her father.
William and Mary would suffer their third loss, Elizabeth, when she was 23, just two and one-half years after her marriage to George Akers. The other seven children all outlived their parents. Of the remaining six daughters, only Emeline never married, although three others married late and had no children. Christina married Daniel Shelor at 39, Margaret married John Acquilla Weeks at 41, and Lucinda married James Miller at 37. Mary married Isaiah Sumner and she became the grandmother of Henry King, prominent motion picture director for Twentieth Century Fox. Virginia, at age 17, married Tilman C. Overstreet.
When William established residence in Floyd County is not known. He and Mary, along with a James and Martha Graham, sold two tracts of land on Big Trap Run on the North Fork of Roanoke River in Montgomery County on 25 Mar 1833. The 1830 U.S. Census lists him as living in Montgomery County, but this could have been in what became Floyd County when it was formed from Montgomery in 1831. The 1840 U.S. Census has him living in Floyd. He purchased 200 acres in Floyd County on the north side of the east fork of Little River on 16 Jan. 1843 for $1000.
William appears to have been a fairly prosperous farmer until after the Civil War. He was able to send his son Hank to Roanoke College in Salem in the post-war year of 1867 when the South was generally prostrate. Only 12 students were enrolled. But then, apparently, he began to suffer financial disaster. Iva did not seem to understand clearly what happened, but she said a lot of mean politics was involved, presumably because William had been lukewarm to the idea of secession, as so many people of Virginia's western counties were. She said he had gone on a note for someone, presumably George Akers; that he later paid his share, but his receipt was tricked out of him; and then it was claimed he had not paid. There is a court record of William going on a note for a George Akers 5 Mar. 1857 to secure payment of a debt.
In December 1871 William declared his intention to claim homestead to exempt from seizure the following: "one 215-acre tract on which he was living, assessed at $4 per acre; one 120-acre tract in Montgomery County on waters of Big Trap, assessed at $4 per acre; interest in Beaver Dam Mills, amount not yet fully ascertained; and interest in house & lot in Jacksonville [Floyd County], amount not ascertained." The author has not been able to find subsequent records throwing light on this case, but apparently William lost everything.
The 1870 U.S. Agricultural Census had shown him with 120 acres of improved land, 95 acres of woodland, the cash value of the farm $1000, and livestock worth $430.
There were two purchases of land on the South Fork of Little River in 1882 that may have been an effort to hold on to some of the property, one by Hank of 53 ¾ acres for $600, and one of 67 acres 3 rods for $595 by Hank's sisters, Margaret and Emeline.
The case is discussed vaguely in a letter dated 15 Dec. 1883 from Hank's sister Lucinda to another sister, Emeline. She writes: "I was to see Chris [sister Christina] last week . . . she questioned me about Fathers law business — Dr. Gordon was here the last time Christina was & he said that he intended to straighten that difficulty for father but she had no faith and talked discouraging to him — Dr. said if he understood the case that it had to be kept a secret & I was like Jacob moor was about fasting — I thought if that would do any good I could keep it. I have been questioned by different ones but they are none the wyser I have faith but whether it is saving faith or not I cant tell — I believe he will straighten the last wrinkle — he told Mr. Miller [Lucinda's husband] that he never would have understood it if it had not been for me — I recon that he saw I was anxious — Em father did not understand that about them depositions — we were to write for them if the Dr. thought it necessary & he did not — that was the reason we dident — I'm sorry you went to that expense but maybe it is for the best the more the stronger — I dont want a stone left unturned — there has been a change in the time of holding the court at Washington cty [probably Abingdon in Washington county where Federal District Court was held] it dont commence until the first of January and that gives us more time Dr. Gordon received a letter from there stating that the papers were received & filed I was glad that they received it in the court — Tilman told Mr. Miller that his crowd was wanting to compromise with him — I recon that they have received there notices by that I do hope that they will be made to feel what we have."
In response to a query by the author, the National Archives regional office in Philadelphia replied it had no record of a bankruptcy case involving a William Jewel.
Both William and Mary (Hall) Jewel, along with three of their daughters, Lucinda, Christina and Emmeline are all buried in the graveyard on Aunt Lucy's (Lucinda Jewel Nunley) farm. The farm is located between Radford and Christiansburg. Danel Shelor (Christina's husband) and James Miller (Lucinda's first husband) are also buried there. Other graves/tombstones are also there.
Miller Family Cemetery - Christiansburg, Virginia