Rankin Mickey - Civil War Soldier
Rankin Mickey is the great-grandson of Peter Gary, Sr. through his daughter Catherine Gary Mickey
Rankin Mickey was born in May 1845 according to the 1900 United States census. That would have made him only 16 years old when he enlisted as a soldier in the Civil War. He served in Co. D, 55th PA Infantry, 1861-65. Served in Virginia and North Carolina. Reenlisted in January 1864 and went home on a 30-day furlough. Failed to return to duty and arrested in March, 1865 as a deserter. Returned to regiment, fined, and honorably discharged in June, 1865. The 1900 census lists his wife, Catherine, as having twelve children with ten living at that time.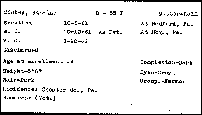 Obituary appeared in "The Courier"
May 4, 1905
Connellsville, PA Vanderbilt, May 1 (Special)
Rankin Mickey, an aged and respected citizen of East Liberty, is dead. On Friday afternoon at 1:15 he passed to the great beyond and joined the invisible choir, whose delightful music is the enraptured gladness of this world. But God has decreed that all men must die. The mandate has gone forth and must be obeyed. And day by day we are called upon to record the deaths of our friends and relatives. Rankin Mickey was born in Somerset county in the year 1845, and had he lived until the 7th day of May next would have been 60 years of age. Fourteen years ago Mr. Mickey came into this community, locating in East Liberty, where he continued to reside until the time of his death. Always of a robust nature and a hard working man, he knew not what sickness was until within the past few years. About 15 months ago he commenced to complain of feeling unwell and continued to grow worse as the months rolled by. About four weeks ago he took to his bed. Physician after physican was called in to see him, but of no avail. His case puzzled the best doctors of this and other towns, and in vain did they consult as to the true nature of his sickness. The writer has been informed that the direct cause of his death was cancer of the liver. He was the son of George and Adeline Mickey, both of whom have preceded him to that eternal city. In 1864 Mr. Mickey was united in marriage to Miss Catherine Ritenour, who survives him, as does also 10 children, four boys and six girls. They are; Della Mickey and Wilbert Mickey, at home; Mrs. Mary Perry, of Uniontown; Mrs Sim Provance, Mrs. Edward Dunlap, Mrs. George Williams, Mrs. Theodore Blackstone, John, Frank, and Mack, all residing here. He also leaves one brother and one half brother, of Mobile, Iowa, and two sisters, Mrs. Christian White, of this place, and Mrs Catherine Wigley, of Wheeling, W. Va. Mr. Mickey was for the past 14 years a member of the East Liberty Church of God, and remained a faithful servant of the divine master, whom he strived to serve, until the last call was made, and he was summoned to the judgement seat of the Christ. His life, both public and private, was above reproach. Honest in all of his dealings with men, for he believed that honesty was the best policy. For many years Mr. Mickey was in the employ of the W. J Rainey Company, in the capacity of a miner. But the past four years his health would not permit him to toil in the mines and he did light manual labor outside. His days of work are no more. The hands which he labored with for the support of others is now folded in the soft embrace of death, and his wife, who shared his sorrows and joys, who was close by his side in sunshine and storm, now sits in the solitude of the home which he reared for her and thinks of the once happy days which are gone. Mr. Mickey was a soldier and saw service in the field during the civil war. He was a member of several orders, the A. O. K. of M. C. and the Red Men. The latter will have charge of the service. The funeral will take place from the East Liberty Church of God at 2:30 p.m. Sunday. Rev. Sylvester Fulmer, the pastor, will officiate. In this, which is one of the saddest hours of their life, they have the heartfelt sympathy of the people of this community. For one by one "from love's shining circle the gems drop away" and the faithful ones have a triumphal entry into that celestial city amid the ringing of those heavenly bells.
Obituary Courtesy of Christopher Mickey
If you have additional information on Rankin Mickey that you are willing to share, please contact pat@family-genealogy-online.com or fill in our contact form.