Jonas Hessel Gary - Civil War Soldier
Jonas Hessel Gary is the grandson of Peter Gary, Sr. through his son Peter, Jr.
Jonas Hessel Geary (1825/26-1903) was mustered into the Union Army Sept 26, 1864, at Chambersburg Pennsylvania. He is described as having blue eyes, dark hair and a dark complexion. He served as private, Company G, 61st Regiment, Pennsylvania Volunteer Infantry. While at Danville, Virginia in April 1865, Jonas contracted typhoid fever which afflicted him the rest of his life. He probably marched in the Civil War victory parade in Washington, DC and was discharged June 20, 1865. Jonas died of paralysis Sept 22, 1903.
There is a picture of Jonas in his uniform which appeared in the April 15, 1993 issue of the Geary-Gary Genealogical Gazette. My thanks to Tom Jablonsky and Kimberly Williams for sharing this photo.
Jonas and his wife Joanna are buried in the Schrock Cemetery.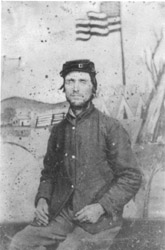 Register Report for Jonas Hessel Gary and his descendants.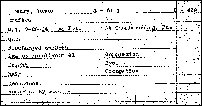 Civil War Veterans' Card File - Jonas Hessel Geary
If you have additional information on Jonas Hessel Gary you are willing to share, please contact pat@family-genealogy-online.com or you can use our contact form.