George Washington Gary - Civil War Soldier
George Washington Gary was born in May of 1825, the son of Jonathan Gary and Nancy Agnes Clark Gary and grandson of Peter Gary Sr., the Revolutionary War Soldier.
George Washington Gary was 38 years old when he became a Civil War soldier for the Union cause. He mustered in on March 7, 1864 in the 14th Cavalry from Fayette Company B. 159th Regiment under James M. Schoonmaker. It later became Company K. He mustered out at Ft. Leavenworth Kansas on 24 Aug 1865. George was born in Summerset County, Pennsylvania (spelled that way in records) and his description at the time he joined the service was eyes grey; hair black; complexion dark.
George Washington Geary applied for and was granted a pension for his service as a Civil War soldier. His ailments included chronic diarrhea, typhoid fever, disease of the kidneys and rheumatism. After George died on 2 May 1901, his wife Margaret, applied for and was granted a pension. His pension files lists the dates of birth for his living children (made Jun 4 1898) and the date of his marriage to Margaret Bungard.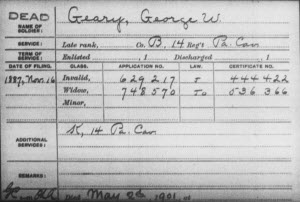 Click thumbnail for larger image.
The Sand Hill Cemetery in Springhill Township, Greene County, Pennsylvania contains a tombstone with GEARY in large letters. It lists George Washington Geary, wife, Margaret, and sons, David and Wash. The dates don't quite match the date on the death record but it is the same family.
Unfortunately, the pages are of to poor a quality to scan.
George Washington Geary's Descendants in register format.
If you have additional information on George Washington Gary or his family that you are willing to share, please contact geary@family-genealogy-online.com or you can fill in our contact form.