Daniel Mickey - Civil War Soldier Daniel Mickey
Daniel Mickey was born 27 July 1841. He was the grandson of Peter Gary, Sr. through his daughter Catherine Gary Mickey
Daniel Mickey was 21 when enlisted in the Civil War and when his enlistment expired re-enlisted for the duration, and served during the entire war and witnessed plenty of action. He served with the 354th Pennsylvania Volunteers, Company D. At the time he decided to enlist he resided with his parents who operated a farm on what today is known as the Blue Hole camp site.
Daniel, together with his brother, James, departed from their home one night by means of an upstairs window, walked to Lexington and to the nearest recruit center and as there were no means of transportation proceeded by foot to Cumberland, Maryland for assignment.
According to Daniel's Civil War pension application, he was married twice. First to Sarah Ann Sullenberger and second to Minnie Belle Wilson. The application lists nine children all by Minnie. Register Report for Daniel Mickey Family..
My thanks to Barry Mickey of Findley, Ohio for providing the information on this family. Click on the thumbnail for a larger image.


Daniel Mickey's
Civil War Pension File


Daniel Mickey's
Death Certificate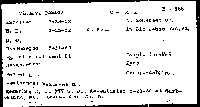 Civil War Veterans' Card File
Daniel Mickey
If you have additional information on Daniel Mickey that you would be willing to share, please contact pat@family-genealogy-online.com or fill out our contact form.