Abraham Geary Miller - Civil War Soldier

Abraham Geary Miller, was the son of Hannah Geary and Michael Miller. He was born 11 Nov 1842 in Somerset County, Pennsylvania. At the age of 20, he enlisted as a private in Company A, 140th Pennsylvania infantry. He enlisted 8-18-1862 discharged in 1863 and reenlisted 12-1-1863 and discharged 7-7-1965. Abraham's Civil War service was for the North. He is listed in the 1890 special census for Veterans. He was a republican. Abraham Miller was a learned individual. He played the violin proficiently and was Superintendent of a local school for a time. He would also be described as frugal with his war pension.
My thanks to Lisa Thompson Scrofano for sharing this information.
Abrahan Geary Miller's Descendants in register format.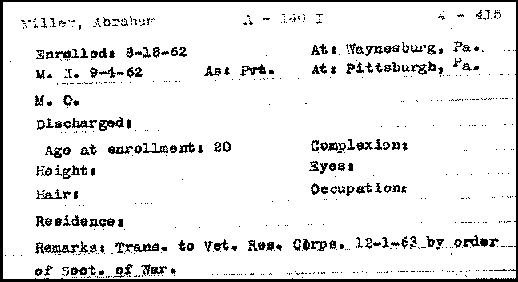 Civil War Veterans' Card File, 1861-1866 for Abraham Miller
Card Key for reading the above
If you have additional information on Abraham Geary Miller that you would be willing to share, please contact pat@family-genealogy-online.com OR you can use the contact form.