Grand Teton National Park - June 2008
Colter Bay Village - June 5
NOTE: Click on any thumbnail for a larger image.
Up at 6am after a good nights sleep. Down to the Chuck wagon again where they offered a mini buffet of fresh fruit, hot and cold cereal, coffee and juice, and fresh breads. Just what we wanted after a big dinner. Very cold but we are dressed warmly, Jim in longies and both of us in heavy coats, hats, and gloves. While cold, the day is clear; so we decided to take the Swan Lake and Heron Pond hike which is described as:
"The 3-mile Swan Lake-Heron Pond loop is quite flat and takes approximately 3 hours to complete. Parts of the trail are in the shade provided by lodgepole pine forests."
They lied. It was not FLAT! We headed out from the Hermitage Point Trailhead and soon remembered from previous visits that the Grand Teton trails are NOT very well marked, and not many people were hiking that day. The views were spectacular. We traveled first along the edge of Jackson Lake.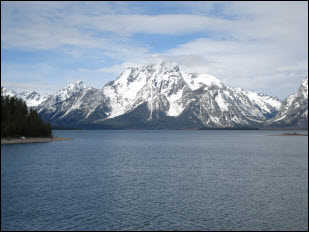 View from the Lakeside Trail
Jim studied the trail map. A lot of good that did us. The sign said Jackson Lake Overlook, so we headed that way. No longer was the trail flat; it rose to beautiful views. But the name is deceiving, as four horse back riders told us. There is no view of the lake. But the view of Mt. Moran was spectacular. Perhaps it is best to let the pictures tell the story of the hike.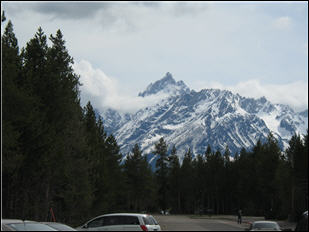 View of the mountains from the trailhead parking lot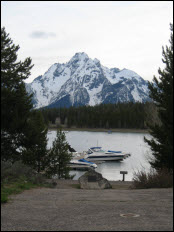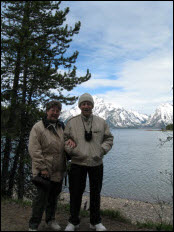 Views from the lakeside loop trail on the way to the Swan Lake Heron Pond hike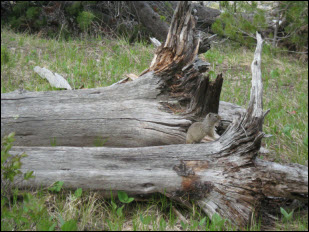 one of the critters we met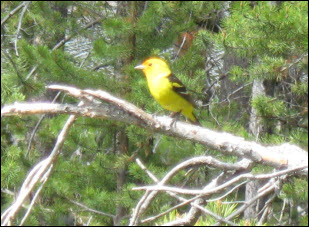 Western tanager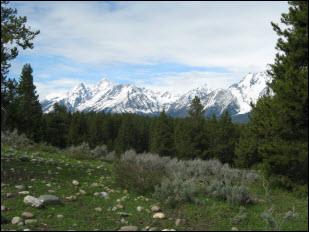 View from Jackson Lake Overlook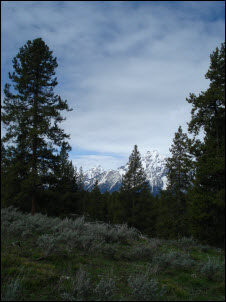 View from Jackson Lake Overlook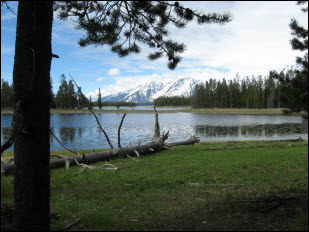 View of Swan Lake
We saw one of the most beautiful birds, that we later found out was a western tanager -- bright yellow with an orange head. We got turned around a couple of times but finally ended up back in the parking lot. Our little red PT Cruiser was a welcome site. We headed back to the cabin for lunch and a much needed nap. On the way we saw people around the fox den area so stopped to see. We caught sight of both the mamma and the babies, and took pictures.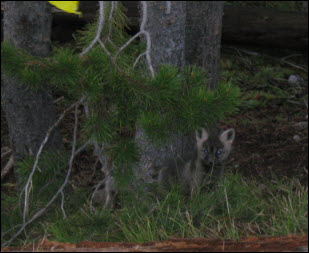 One of the babies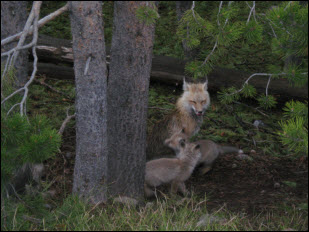 By afternoon, it was raining again so we headed for the Indian Arts Museum and back to the Visitor's Center where we watched the movies "Yellowstone Burning" and the "Wolves" for the second time. Back to our room for screwdrivers and then we headed out for dinner of salmon for me and chicken for Jim. Tired after the long hike, we went to bed early. All the fresh air makes for early bedtimes. Tomorrow we head for Yellowstone.